Life at KUAS
Facilities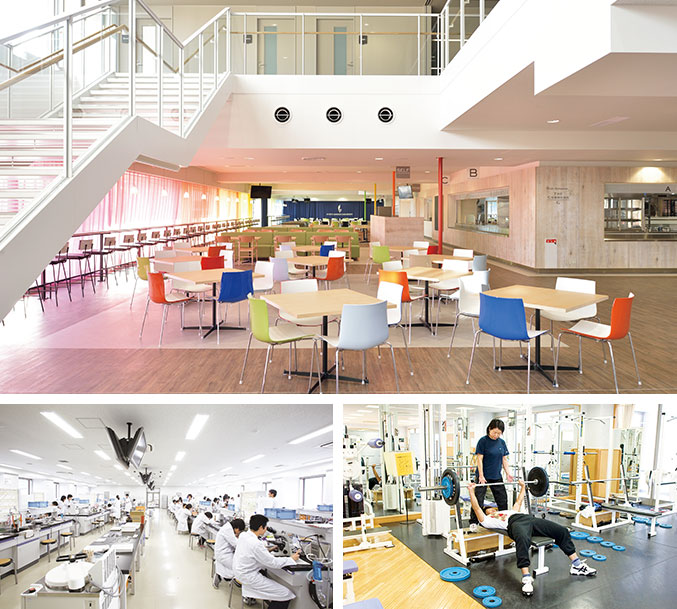 KUAS is proud to provide our students with an excellent environment for learning - our numerous excellent facilities. We have two libraries that are not only home to our impressive collection of over 460,000 books, but also provide various study spaces. From silent personal study areas to large group areas, we want to make sure to provide the perfect environment for studying.
Of course, to keep not only your mind but your body fit as well, our university also features a gym as well as other multiple athletic facilities ranging from multi-use courts to a driving range.
Also, one of the staples of the Japanese university experience is the cafeteria, where you will find a large variety of dishes at very reasonable prices. The abundance of delicious food on campus has always been particularly popular for foreign students, with the always changing menu constantly bringing students back for more.
Furthermore, as a medium-sized university, we can guarantee you will actually find a seat at the library and the lines in the cafeteria are not too long. By the way, the bench press machine is also not constantly in use.
Location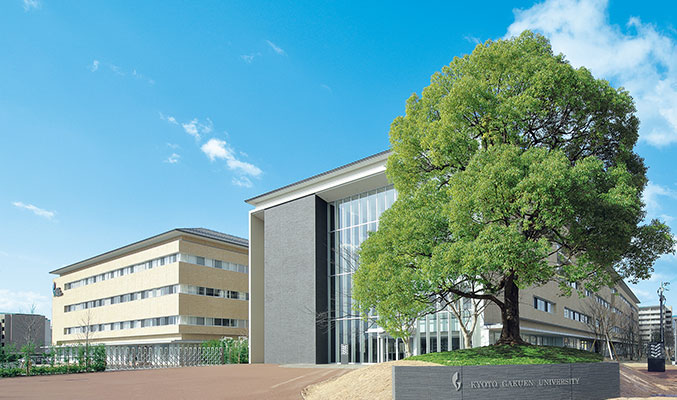 Our facilities are located in Uzumasa Campus, a relatively relaxed area in Western Kyoto. It is a perfect distance from the city center for a nice and short bike ride in all seasons, and there is always the subway and bus in case it rains.
Dormitory
We are dedicated to providing housing solutions that fit individual students needs and their lifestyle. There will be options for on-campus dormitory housing. Furthermore, according to preference, we will be happy to assist in arranging housing in a private residence. Whatever your preferred way to live is, we will take care of you.
Career
From an engineer's perspective, Kyoto provides a uniquely stimulating environment for building a career. We embrace the presence of globally top-performing mechanical and electronics companies headquartered in Kyoto, as well as our close relationship with Nidec, for our students. Therefore, engaging in industry placement during coursework will lead to an inspiring opportunity to explore a landscape of great career opportunities available here. Furthermore, KUAS ensures this kind of students' involvement in the industry will be the springboard for a smooth entry into life at post-graduation from KUAS. This is possible because of the existence of a myriad of excellent and global engineering firms based in Kyoto.
Scholarship
KUAS has developed a scholarship program to cater to the needs of students with academically high-performing credentials. It is a differential tuition-reduction scholarship depending on a student's academic performance, and it also includes a full-amount reduction to a certain portion of top performers every year. This helps prospective students reduce the financial anxiety of going to study overseas, and shows how committed KUAS is to invite international students to Japan and grow their talent for their promising future.
Furthermore, the government of Japan is renowned for giving generous scholarships to foreign students. Be it JASSO or another scholarship, we will assist you in the application process so that you can get the funding you deserve.
Visa
International students are permitted to stay in Japan for the purpose of receiving education at a Japanese university. Once the applicant has been accepted to the program, he/she will submit all required information directly to KUAS, after which we will undergo the application process on your behalf. You will eventually receive a Certificate of Eligibility (COE), which you can use to obtain your visa at the Japanese Embassy of your home country.
*Under a student visa, it is possible to work part-time in limited hours
Testimonials
Watch two of our foreign students reflect on their time KUAS!
1. Liew Poh Yi (Malaysia)
Majoring in history, Liew Poh reflects on the the broad range of electives to choose from, the quality of the faculty, as well as offering some advice on what to do to prepare yourself to study in Japan.
2. Joseph Kyle-Di Pietropaolo (United States of America)
Currently working towards a Bachelor of Arts in Psychology and Japanese, Joseph talks about the opportunity of gaining an understanding of his field of study from the Japanese perspective.